PROPERTIES
LUXURY 2-FAMILY HOUSE WITH LOVELY SWIMMING POOL IN THE VILLAGE OF KALIMANCI NEAR VARNA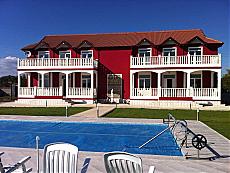 Property type: House -> Four or more bedrooms
Property ID: 6131
Location: Varna Region / v. Kalimantsi

Area: 316 m²
480 000 EUR
For sale:
| | |
| --- | --- |
| Furnishing: | Semi-furnished |
| Building: | Brick built, Newly built |
Description:
Accent Invest offers to your attention a luxury property situated in a picturesque and well-developed village near Varna called Kalimanci.
The house has total living area of ​​316 square meters distributed in two identical wings. The property consists of 6 bedrooms, 4 spacious bathrooms with closets, living room with kitchen in each wing. The one wing of the property is fully furnished and the other is unfurnished (it is possible to be furnished by the owner upon request).
Distribution: The first floor consists of living room, closet, toilet with total area of about 7 sq.m. The second floor consists of 3 bedrooms, for each section of the house and toilet. The terrace on the second floor has total area of 21 sq.m. for each section – with access to the three bedrooms. The terrace on the first floor has total area of 23 sq.m. for each section.
Total area of the basement – 50 sq.m.
Size of the BBQ – 5.50m/4m.
Height of the fence – 2.60m. It is built with massive blocks and contributes for the coziness of the residents.
The second floor of the house offers beautiful view over the Varna's Lake.
The total area of the adjacent yard - 2000 sq.m.
The house has a lovely swimming pool size 10/5/1, 5m, outdoor barbecue and parking.
Maintenance of common parts - a company hired by the current owner and the costs are following:
In the winter - 300 BGN/month
During the summer period - 850 BGN/month
The house has a septic tank. It is going to be built a well in the garden.
This unique property is ideal for your summer or winter vacation, meeting with friends or earn a nice weekend away from the hustle of the city. Except for holiday living, the house is suitable for year-round occupation.
Kalimantsi is well developed village - here you will find all necessary amenities.
In the village is situated the largest and most modern loft in the country. It kept its sports pigeons over 200 locals. During the race birds were released from Prague, Vienna, Bucharest and other European cities.
Contacts:

BROKER СВЕТЛАНА КАЗАНДЖИЕВА
Phone +35952611010
Phone +35952602118
Mobile +359888628355
e-mail: skostova@accentinvest.com

ACCENT INVEST
Maria Luiza Blvd.39, 9000 Varna
Phone: +359 52 61 10 10
Fax: +359 52 60 21 18
e-mail: office@accentinvest.com