Properties for Sale - Houses in Varna Region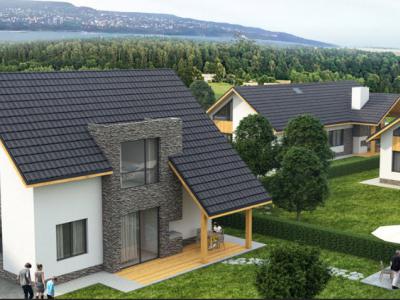 Описание: Accent Invest presents to your attention a newly built house in the village of Zvezditsa. The house is part of a complex with a total of 11 houses, one-story and two-story, different in type and square footage, each with its own separate plot. The house offered by us is a two-story type 2 and consists of: - first floor: single room for living room-dining room-kitchen. A private exit to a covered porch is provided. An entrance hall,...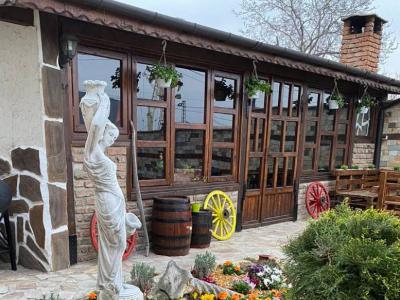 Описание: We offer for sale a separate floor of a house completely separate documentary together with its own yard in the village of Ezerovo near Varna. The house has two floors and each floor has a separate entrance from different streets and a separate yard. The floor consists of spacious corridor, living room with kitchen, two bedrooms and bathroom with toilet and a large basement / closet 40 sq.m. Fireplace, two air conditioners. The bathroom is large,...
Описание: Accent Invest offers to your attention a lovely complex of three luxury houses, located in a small and well developed village near Varna. The first house is fully finished. It has total living area of 145 sq.m. and consists of: 1st floor: kitchen, living room with fireplace, dinning room, bathroom with toilet, closet and verandah. 2nd floor: 3 bedrooms, a bathroom with a tub and a verandah. The property has fully fitted...
Описание: Accent Invest offers to your attention an elegantly furnished house in a unique location with easy and convenient asphalt access in the city of Trakata. The house has two floors, with a built-up area of ​​500 sq.m., located on a plot of land with an area of: 1051 sq.m., bordering a pine forest. In the yard there is a swimming pool, a barbecue corner, parking spaces for 5 cars, a security building, a garden with an irrigation system,...
MANASTIRSKI RID COUNTRYSIDE

Описание: Accent Invest offers to your attention a furnished house with panoramic sea views in Manastirski rid area. Very attractive location - the property is located only 10 km from the center of Varna, 600m from the resort "St. Constantine and Elena" and 7km from the resort. "Golden Sands" . The road to the house is completely paved. The house is included in the central sewerage. Monolithic stand with an area of ​​254...
Описание: Accent Invest offers to your attention a newly built house with a sea view in the area of ​​Sotira, 5 km from the city center and close to public transport stops, schools, kindergartens, grocery stores, pharmacies, hospitals, etc. Access to the house is via a concrete road Distribution: The house has two floors with a built-up area of ​​222 sq.m. On the first floor: entrance hall, closet, bathroom...
Описание: We are selling a house with total area of 210 sq.m, located 9 km. from Varna. The distribution of both floors of the house is identical and allows use by two families. Distribution : First floor: entrance hall, spacious living room, kitchen and access to balcony , bedroom and second large room that can be used as a guest bedroom , bathroom , stairs to second floor ; Second floor: four bedrooms, bathroom, two balconies....
Описание: Accent Invest offers to your attention a unique project for 3-bedroom apartments / apartments in a quiet area a few kilometers from the center of Varna - Sv.Nikola area. Each property is provided with 2 parking spaces. Southern exposure. Distribution: Floor 1 - spacious sunny living room with kitchen area and dining area 44,5 sq.m., veranda 28,8 sq.m., bathroom 3 sq.m., closet 3,6 sq.m., corridor / entrance hall 11, 5 square meters; Floor...
Описание: Accent Invest presents to your attention four-storey house built in 2009 with a total built up area of ​​500 m2 and a yard of 750 m2. The house has four garages, a pool in the front yard 6 in 3 meters with jacuzzi, zone with a tent and a toilet with a shower. Flower garden with irrigation system and fountain with lighted roses and evergreen shrubs. Area with barbecue. Back yard with irrigation system and fruit trees. First floor...