Properties for Sale - Houses in Varna Region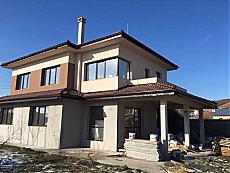 Описание: Accent Invest sells a massive house with a sea view and a spacious yard in the village of Bliznatsi near Varna. The total living area of ​​the property is 350 sq.m. The distribution is as follows: on the first (ground floor) - bedroom, bathroom with toilet, living room (75 sq. m.), kitchen and closet. On the second floor - four bedrooms, two bathrooms with toilets and a spacious foyer. One bedroom is divided into two floors with an internal...
Описание: Accent Invest offers you two-storey fully furnished and equipped village in Priseltsi. The yard is with ryegrass and fruit trees, has a covered swimming pool and a separate closet with garden tools. Automatic irrigation system. Central water supply. Also house has an additional water source, which is used for both the pool and irrigation system, as well as the water supply of the house. Automatic door at the entrance. The house consists...
Описание: Accent Invest offers at your attention a luxury house with sea view, situated in the picturesque town of Byala, near Varna. The property is located in a quiet and wide street with excellent sea view. The total built up area of the house is 487 sq.m and the yard area is 956 square meters - planted with cypress brand leylandis h-250 cm. / Around the entire wall / magnolias 5 years, Rosery - 230 roses 250sq. m paved paths and sidewalks, 4 fountains,...
Описание: ID:16527 Accent Invest offers for sale two-storey house located in the picturesque village of Osenovo, 4-5 km. from the beach and the resorts Albena and Kranevo. The house has a total living area of ​​100 sq.m., spread over two floors, has a private landscaped yard with an area of ​​500 sq.m. Put into operation with a permit for use at the end of 2009. On the first floor are located: entrance hall, kitchen, two rooms and bathroom...
Описание: We offer you a house in the village of Ezerovo (10km from Varna) consisting of two residential floors, each of which has a built-up area of ​​84 sq.m. and an unfolded built-up area of ​​168 sq.m., a yard of 374 sq.m. , underground garage with one parking space and one outdoor. The building has an external thermal insulation, pvc-joinery and glass-pane with energy efficient K-glass, which protects the home from cold winter and hot summer....
Описание: Accent Invest offers you two-storey house with total area of ​​220 m2 in a luxury complex with a yard 3000 m2. First floor: sunny living room 60 m2 with kitchen and sofa, large bathroom, laundry room, hallway, large closet, a spacious veranda (30 m2) with a view of the bay and forest. Second floor: three large, bright and warm bedrooms (average 15-22 m2) with the correct forms. Two of them with their own bathrooms. The furniture...
Описание: Accent Invest offers to your attention a newly built two-storey house located in the Alen Mak area. Act 16 received. On a total living area of ​​168 sq.m. are distributed: First floor - living room with kitchen and dining area, laundry room and toilet; Second floor - three bedrooms, two bathrooms with toilet, closet and terrace; Yard - 425 sq.m. The house is offered in a stage of completion according to BNS. Built with Wienerberger...
Описание: Accent Invest offers you a two-storey house with a large yard in the village of Priseltsi. The house is located at the beginning of the village and is easily accessible. It was built in 1997 and has been permanently lived in. Distribution of 1 floor corridor, living room, two bedrooms, closet and bathroom. The second floor is unfinished and there is currently open space with no interior walls. It is currently rented. The yard is 1160 sq.m....