Properties for Sale - Offices in Varna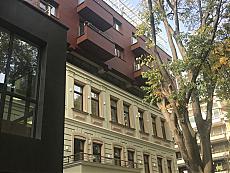 Описание: Accent Invest offers to your attention residential building with various apartments located in the heart of the city, close to all amenities and attractions of the sea capital. Degree of completion: Bulgarian Standards. Plaster, water plugs. Installation completely built without lighting, PVC joinery five chamber. For actual price list, please look at the Bulgarian version of the add.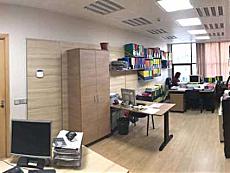 Описание: Accent Invest offers to your attention office for sale in the area of Sports Hall. The property is with 220 square meters total area and is located on the 5th floor in new business building. Consists of: four rooms, toilet, conference hall, furnished. Maintenance fee of 280 leva per month.
Описание: Accent Invest offers its customers a business premise office plus warehouse. It was a shop but due to the high tax it was changed to an Office. Located in a residential brick building completed in 1998 and consists of 2 levels: Ground floor: 4 separate offices + kitchen and toilet with a total area of ​​66 square meters. Basement: 4 separate rooms with bathroom and toital area of 67 square meters There is a...
Описание: Accent Invest offers to your attention ofice in a luxurious building is located in the most desired and elite borough in the very center of Varna. It is situated in architecture reserve Odessos, which makes the building part of a district with a millennial history. The project is designed in an architectural ensemble with many monuments of culture. Its excellent location is convenient not only for living, but also...
Описание: Accent Invest offers to your attention an office located in the "Hospital District" near the school "Stefan Karadzha". The total area of the room is 32 square meters, which are clean usable area, excluding common areas. Represents two garages that are linked lengthwise and separate renovated as an office. Its status is a garage, but after repair has become a great office. The front door has aluminum windows, tiled floor, and...
Описание: Accent Invest offers to your attention office/shop for sale in the area of Saint Anna hospital, near Stephan Karadzha. The property is with 51 square meters area and is lcoated on the ground floor. Consists of: ground floor of 40 sq.m. area, consists of main room (26 sq.m.), kitchen area (6,5 sq.m.), toilet (3 sq.m.) basement, about 15 sq.m. area The property is half furnished, equipped with air-conditioning and roller blinds....
Описание: Accent Invest offers apartments and offices in a building located in the central part of Varna, in the vicinity of the City Hall and the Marine Park. The building consists of seven floors, built on a plot of 530 sq.m., built-up area 282 sq.m, total area 1570 sq.m. In the underground level are separated 23 indoor parking spaces, some of them are on two levels type SWISS PARKING - parking with lift. Each apartment has closet. Underground...
Описание: Accent Invest offers to your attention spacious one-bedroom apartment, situated in one of the most prestigious quarters of Varna – Greek quarter. The property lies on the first floor of the residential building and has total living area of 74 sq.m. The apartment consists of living room (44 sq.m.) with fully equipped kitchenette, bedroom (13 sq.m.), bathroom plus toilet, corridor and terrace (6 sq.m.). The property is luxury finished...
Описание: Accent Invest offers to your attention a panoramic, property with office status, located in close proximity to the District Court. It consists of: spacious, bright and warm room with kitchenette - possibility for living room and bedroom, bathroom with toilet and terrace with potential for covering and glazing. Located on a terraced floor without beveling. Net living area of 56 sq.m, of which 20 sq.m. terrace. Common parts 9 sq.m. In excellent...