Properties for Sale - Houses in Varna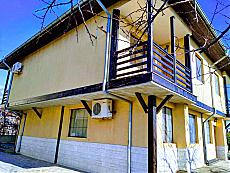 Описание: Accent Invest offers at your attention a two-storey house in the central part of Vinitsa. The house is part of a small, neat complex of 4 single-family houses with a common yard of 680 sq.m., barbecue area, landscaping. The property has 2 open air parking spaces. Lay out: Living area: 140 sq.m. - first floor: corridor, toilet, closet, living room, kitchen, dining room, staircase to the second floor. - the second floor: corridor,...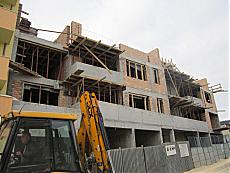 Описание: Accent Invest offers to your attention one bedroom apartment, situated in Terapiata quarter, Varna. The property itself has total living area of 57 sq.m. and consists of living room with kitchenette, bedroom, bathroom plus toilet, korridor and a terrace. The apartment is finished according to Bulgarian National Standards. The residential building will be fully completed and put into operation (act 16) till End 2021. The quarter is well...
Описание: Accent Invest offers to your attention a newly built house (semi-detached) located in Breeze area. The house consists of three floors and a double garage located on the ground level. The distribution of the floors is as follows: 1st floor: Spacious living room with kitchen, bathroom, laundry room, entrance hall; Second floor: three bedrooms, one with its own bathroom, a second bathroom on the floor, terrace; 3rd floor bedroom with separate dressing...
Описание: Accent Invest offers to your attention a four-storey family house in the residential area Levski. The house has a net area of ​​208 square meters. and a yard - 75 sq.m. The property has the following location: Floor 1 (basement): kitchen, two bedrooms and a combined bathroom with toilet Floor 2: entrance hall, bedroom, large kitchen with dining area, bathroom and closet Floor 3: corridor, two bedrooms, kitchen...
Описание: Accent Invest offers to your attention a three-storey house with total built up area 450 square meters and adjacent yard - 500sq.m. The house is located in Vinitsa on 3 km. of St. Constantine and Elena resort and 7 km. from Varna. The total area of ​​450 square meters is divided on: First floor - basement/dinning area, kitchen, toilet, 2 bedrooms each with bathroom. Second floor - 3 bedrooms/each with bathroom, one-bedroom apartment....
Описание: Accent Invest offers to your attention a spacious 4-bedroom house located in Vinitsa quarter, close to the shop "My Market". On one side, the property borders Pine Forest and offers great sea views. On the first level are located: spacious living room with fireplace, separate kitchen, toilet, closet, laundry room. Underfloor heating is installed. The first level has a direct exit to the yard. An internal staircase...
Описание: ID 18157. Accent Invest offers to your attention a separate floor from new three-storey house in Zelenika, Galata. Distribution of three separate identical floors - all of them for sale for now. Suitable for 3 families! The house was built between 2015-2016 years, electricity and water accounts, its own water (well water on the 3rd meter)! Insulation, PVC windows. Flooring - laminate, is completely finished. Total area of ​​the adjacent...