Properties for Sale - Houses in Varna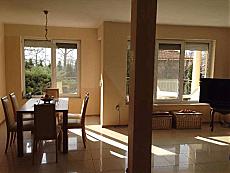 Описание: Accent Invest offers to your attention two-storey house with an area of ​​250 sq.m. And yard of 400sq.m. In the area of ​​St. Nicholas near Varna. The distribution of the house is as follows: First floor - living room with kitchen and dining area, veranda, bedroom, bathroom with toilet and closet. Second floor - three separate bedrooms, spacious, each with an area of ​​about 20 square meters. With access to a terrace and bathroom...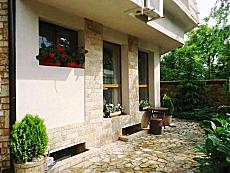 Описание: Accent Invest offers you a three-storey twin house with Act 16 of 2013 very well maintained and landscaped yard in the district Izgrev. The total living area is 250 sq.m and is consist by this way: 1st floor - entrance hall, spacious and bright living room with (45sq.m); 2nd floor - master bedroom with bathroom (20 sqm) Two-bedroom (12 sq.m), a second bathroom, closet. Each room has a balcony; Floor 3 - big premise (40 sq.m), sauna,...
Описание: Accent Invest offers to your attention a stylishly furnished house with 3 bedrooms, located in a quiet and peaceful area near Varna. The property is part of a small complex of 3 single-family houses. Total living area 195 sq.m. Beautifully landscaped courtyard, resting place. Heating - air conditioning. Lay out: First level - spacious living room with kitchen and dining area, bathroom / toilet, bedroom with veranda; Second level...
Описание: Accent Invest offers to your attention a family house located in a new private complex of three separate properties in the panoramic area of ​​ Breeze in Varna. The area is mainly built with new houses and permanently inhabited villas. The distance from the central boulevard to the property is 400m, the street is asphalted and passable all year round. The house has an area of ​​270 square meters, divided into three residential floors....
Описание: We are offering for sale a three-storey house with sea view in Zelenika area, 10 km from the center of Varna. Living area 196.60 sq.m. Plot 494 sq.m. Layout by floors: First floor - living room with access to a beautiful garden, corridor, bathroom-WC, internal staircase; Second floor - two bedrooms, each with access to a terrace, large bathroom / WC, corridor, internal staircase, small panoramic terrace; Third floor...
Описание: Accent Invest offers to your attention a separate floor from new three-storey house in Zelenika, Galata. Distribution of three separate identical floors - all of them for sale for now. Suitable for 3 families! The house was built between 2014-2015g, electricity and water accounts, its own water (well water on the 3rd meter)! Insulation, PVC windows. Flooring - laminate, is completely finished. Total area of ​​the adjacent yard - 1084 m2 will...
Описание: Accent Invest offers for sale a new three-storey house with a beautiful sea view in the area of ​​Manastirski Rid. Built-up area of ​​the house 220sq.m., Yard 700sq.m. The house is fully finished and is fully furnished. The house has a heating installation with radiators in each room. The property has all the right documents! Consists of: - I floor: corridor, spacious living room with kitchenette, bathroom with toilet 10 sq.m, closet...