Properties for Sale - Plots in Varna Region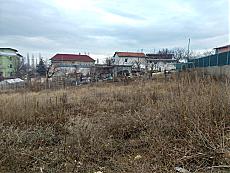 Описание: Accent Invest brings to your attention a unique house with its architecture and location, located in the villa zone of Panorama near Golden Sands, just 13 km from the city. Built in 1991, from a prominent architect in Varna, the house has a total living area of ​​286 sq.m and is situated on a plot of 720 sq.m. On two floors there are a total of six bedrooms, each with a private bathroom, a living room with a kitchenette and...
Описание: Accent Invest offers to its clients a plot in the area of "Kantara", located 15 km from the center of Varna. The place is 610 sq.m with a face on two roads, in regular shape. The plot is flat and is supplied with electricity and water. The place is quiet and peaceful. The access to the plot is easy as the pavement is almost entirely asphalt and crushed asphalt. Quiet and peaceful area with year-round residents, suitable for a family...
Описание: ID: 16645 We offer you a plot of land located in the village of Menteshe, Varna. It is next to Musala stop - the ring road of Vladislavovo. The property is flat, there is water and the current is at the border. A PPP procedure is in progress. Quiet and tranquil area, ideal for one-family construction. Regulation. The neighboring houses and villas are all year round.
Описание: Accent Invest offers to your attention a small plot of land, situated in Kochmar zone, near Varna, with amazing panoramic view over the city. The total area of the property is 600 sq.m. The access is trough an concreted road. Only 300 meters from main bulevard. Quiet area whit panorama over Varna, the lake and the surroundings.
Описание: Accent Invest plot in Perchemliyata over Golden Sands. The plot has a building permit and project for a house on two floors with spacious living room, five bedrooms, each with its own bathroom, bathroom, porch, terrace, summer kitchen pool and others. The project is consistent with the European programs for financing rural non-agricultural activities. The plot is located 15 minutes from downtown, 10 minutes from the resorts - Golden Sands,...