Properties for Sale - Stores in Varna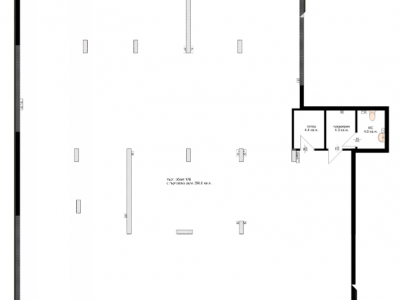 Описание: BUILDER PRICE!!! Accent Invest offers you a large commercial property with an area of 480.33 square meters, suitable for a SHOP, SHOWROOM, SHOWROOM, MEDICAL CENTER, DENTAL OFFICE, REPRESENTATIVE OFFICE, CHILDREN'S CENTER, ETC. The property has a large frontage to the street and visibility from the main boulevard. Big crowd! Location: near Delta Planet Mall, School, Kindergarten, etc. Distribution: one whole room with a clean area...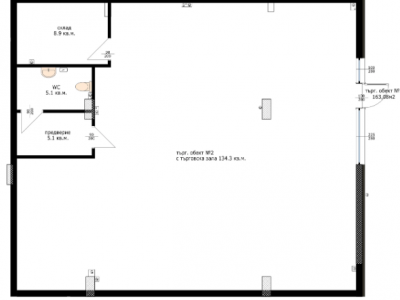 Описание: Accent Invest offers you a commercial property suitable for a shop, office, gym, doctor's office, dental center, etc. It consists of one large ground-floor room of 134 sq.m., storage room, vestibule and toilet. Height - 3.20m. The building is newly built at stage Act 14. The construction is monolithic with 25 cm. brick walls and 10 cm. external thermal insulation, the facade is designed as a combination of silicate plaster, etalbond, NRL...
Описание: Accent Invest offers you a ground floor apartment for sale in the area of Mladost quarter, on a main boulevard with a large vehicular and human traffic. Nearby are: Delta Planet Mall, School, Kindergarten, Medical Center, etc. Layout: one large room with a usable commercial area of 188 sq.m., storage, vestibule and bathroom. Height 3.20m. Exposure: west, north. Degree of completion: BDS The building is under construction at stage...
Описание: Accent Invest offers to your attention business premises (1503 sq.m.), located on the ground floor of a newly built residential building in Varna, Vazrajdane. The properties will be finished by key, according to the client's taste. For more information, do not hesitate to contact us!
Описание: Accent Invest offers to your attention office for sale, situated in the central part of Varna, close to LK Trakia. The property itself has total area of 79 sq.m. spread on two evels: First level: ground floor, 44 sq.m. Second level: underground floor, 18 sq.m. The property is supplied with toilet and is not furnished - in excellent condition: ready to use. The main advantages of this saloon are the attractive price and the convenient...
Описание: Accent Invest offers you a new 5-storey building with beautiful design and architecture. The project includes 5 commercial premises, 14 apartments and 8 studios. The apartments are one-bedroom, two-bedroom and two-bedroom with practical interior layout and nice bright rooms. For the greater convenience of the residents, the construction of indoor and outdoor parking lots is planned. The builder is an established company on the market with many...