Holiday Houses in Bulgaria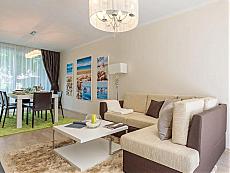 Описание: Accent Invest offers t your attention house for rent in the area of Zelenika. The house is with 400 square meters living area and 50 squar emeters yard. Consists of: 1st floor - one-bedroom apartment, 3 parking places 2nd floor - living room, kitchen, terraces 3rd floor - 4 bedroom, corridor, bathroom and toilet 4th floor - laundry room The house is furnished and equipped with electrical appliances, air-conditioner...
Описание: Accent Invest sells a massive house with a sea view and a spacious yard in the village of Bliznatsi near Varna. The total living area of ​​the property is 350 sq.m. The distribution is as follows: on the first (ground floor) - bedroom, bathroom with toilet, living room (75 sq. m.), kitchen and closet. On the second floor - four bedrooms, two bathrooms with toilets and a spacious foyer. One bedroom is divided into two floors with an internal...
Описание: Accent Invest offers to your attention spacious newly built house in Vinica. Description: 1st level – spacious living room with kitchenette, veranda and bathroom plus toilet; 2nd level – two bedrooms, bathroom plus toilet, closet and a terrace; The house is supplied with a cozy BBQ – 45 sq.m. Total area of the adjacent yard – 680 sq.m. The main advantage of this house is the attractive location –...
Описание: Accent Invest offers to your attention a building plot of 609 sq.m. with three-storey house and attic - 300 sq.m. The plot is with square shape. Great investment opportunity! The property is located near Vinitsa quarter, '' Sv. Constantine and Helena '' and Euro Hospital. Attractive location - a communicative place, far from the city noise, located near the beach. Exposure: east-south-west. Distribution: Each...
Описание: Accent Invest offers to your attention a house in Vinitsa with a total built-up area of 167 sq.m., a yard - 715 sq.m and a panorama of the sea. The house needs to be repaired. Total Living area: 167 sq.m. It consists of two mirror floors of 64sq.m. Each floor consists of two rooms - 16sq each and one 9 sq.m, corridor - 12sq.m with kitchenette and bathroom with toilet. The roof space two rooms of 16 sq.m. and a terrace of 20 sq.m....
Описание: The house is located close to the see - 800 meters from the Kabakum Beach, which is nominated with a blue flag because of the sea clean water. It is also very close (200 meters) from the entrance of the Golden Sand Natural park. The climate is mild and smooth considering the mixture of see climate and fresh forest air. The wonderful sea panorama and beautiful sunset contribute for an ultimate vacation experience. The house is 450 square meters....
Описание: Accent Invest offers you two-storey fully furnished and equipped village in Priseltsi. The yard is with ryegrass and fruit trees, has a covered swimming pool and a separate closet with garden tools. Automatic irrigation system. Central water supply. Also house has an additional water source, which is used for both the pool and irrigation system, as well as the water supply of the house. Automatic door at the entrance. The house consists...