Holiday Houses in Bulgaria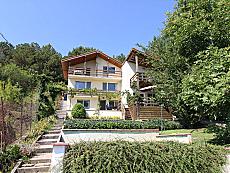 MANASTIRSKI RID COUNTRYSIDE

Описание: Accent Invest offers at your attention a lovely panoramic house for sale, situated in the picturesque area of Monastery Hill near Varna. The villa was built in the 90's and was purchased by the current owner in 2003. From this date, the entire villa was drastically remodelled. The renovation has made use of both, authentic- and solid construction materials, ranging from luxury wood and stone, stucco and paint, tiles and windows (double glass...
Описание: Accent Invest offers to your attention one-storey house in the village Izgrev, built in 2012. The village is located 20 km. from Varna and 9 km. from the town of Suvorovo. The house has a unique luxurious design - stone, one floor with total area of ​​170 sq m. It has the following distribution: a corridor, a spacious living room with a fireplace, together with the kitchen and the dining room about 50 sq. m., three bedrooms,...
ST. CONSTANTINE & HELENA RESORT

Описание: Accent Invest offers furnished luxury villa with landscaped garden and swimming pool. It was built in 2000, made major repairs in 2015. All finishing materials are of the highest class. Has the following distribution: Ground floor - double garage, utility room, sauna, jacuzzi; First floor - large living room and kitchen, WC; Second floor - three bedrooms and two bathrooms; Third floor - large room 100 m2 used for office or playroom...
Описание: Accent Invest offers to your attention two-storey house with a guest house which opens great sea view because of a terraced layout. The total area of ​​the house is 210 square meters with one-storey guest house with an area 100 square meters including stone cellar and two garages with yard of 950 m2. The property is located 500 m. from the main road Vinnitsa - Druzhba. Distribution of the two-storey house: First...
Описание: Accent Invest offers luxury, massive, quality built house with a view and wonderful sea views. Permission to use from 2010, with sewage and with year round access. The house has a floor area of ​​380 m2 and a plot about 700 m2. The property has the following distribution: First level: a bar with a gym, billiard and table tennis, laundry room, bathroom and toilet; Second level: kitchen with a huge living...