Holiday Houses in Bulgaria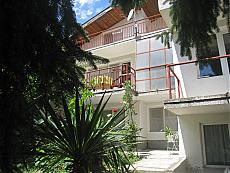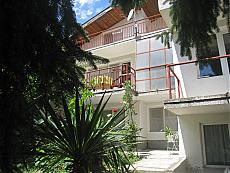 Описание: Accent invest offers to your attention house for rent in the area of Vinitsa quarter. The property is with 100 square metres area and is located in a complex of three houses. Consists of living room with kitchen area and toilet on the first floor, two bedrooms, toilet, bathroom, closet, terrace on the second floor. Furnished and equipped with electrical appliances, one parking place.
Описание: Accent Invest offers to your attention three-bedroom house located in Trakata, Varna. Stylish house with asphalt access, electricity, water and sewage, near a main road and stop. Layout: large living room in three parts, separate kitchen, dining room and living room on two levels with a terrace garden, three bedrooms, two bathrooms, walk-in closet. The yard is landscaped, lighted, fence, parking, PVC windows, air conditioning, insulation. The yard...
Описание: Accent Invest offers to your attention a newly built two-storey house located in the Alen Mak area. Act 16 received. On a total living area of ​​168 sq.m. are distributed: First floor - living room with kitchen and dining area, laundry room and toilet; Second floor - three bedrooms, two bathrooms with toilet, closet and terrace; Yard - 425 sq.m. The house is offered in a stage of completion according to BNS. Built with Wienerberger...
Описание: № Обект / Object Данни за обекта / Object data Изглед / Вид / View Цена за кв.м / Price per sq.m/ Описаниe / Discription Статус / Status ЦЕНА / PRICE [EURO] Площ на...