PROPERTIES
TWO-BEDROOM APARTMENT WITH BEAUTIFUL SEA VIEW IN A NEWLY BUILT RESIDENTIAL COMPLEX, ST.CONSTANTINE AND ELENA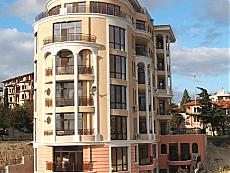 Property type: Apartment -> Three rooms
Property ID: 7415
Location: Varna Region / St. Constantine & Helena Resort

Area: 116 m²
106 000 EUR
For sale:
| | |
| --- | --- |
| Furnishing: | Not furnished |
| Building: | Brick built, Newly built |
| Lift: | Yes |
| Floor: | 5/7 |
Description:
The residential complex we are presenting to you is an exclusive development of 26 high quality apartments ranging from studios of 46 sq.m. to two bedroom apartments of 105 sq. m., with a penthouse apartment of 151 sq.m. Set in a very favourable location, the building is on the seaward side of the coast road just 400 m from the beach front and on the doorstep of one of Bulgaria`s prime resorts, St. Konstantine and Elena. It is situated just 8 km north of Varna city centre and 9 km south of the well known Golden Sands resort. The King`s Summer Residence is 500 meters away.
We are presenting at your attention Apartment 18, with total living area of 115,67sq.m., situated on the 5th residential floor. Lay out: corridor, two bedrooms, two bathrooms, living room with kitchenette and panoramic terrace. Level of completion: turn key.
The residents of this building will be away from the crowds yet only a few minutes walk from all the facilities of an established resort area. Designed by one of the leading architectural practices of the area, the complex is a semi-circular fronted building facing seaward and consisting of 8 floors above ground with one underground car park. The facade is an elegant mix of the classical and modern styles with arched capitals framing the balconies and full height glazing providing a light and airy interior. Stairwells and hallways are finished with quality tiled flooring and neutral colors to walls and ceilings.
The area is well served by local bus routes from Varna City and airport every 15 minutes. It is the first bus stop after the King`s Summer Residence (Evksinograd). Taxi service from the airport takes only 20 minutes. Bus numbers 8, 9, 109 and 409 provide regular, frequent, direct and easy access to Varna town centre.

Distances:
- to Varna International Airport - 13 km
- to Varna City Centre - 8 km
- to Golden Sands Resort - 9 km
- to Albena - 23 km
- to Balchik - 35 km
| | | | | | | | | | | | | |
| --- | --- | --- | --- | --- | --- | --- | --- | --- | --- | --- | --- | --- |
| . No. | Type | Level | Internal Area | Balcony Area (sq.m) | Apt. Area (sq.m) | Common parts (sq.m) | Cellar Store (sq.m) | Total Area (sq.m) | | Price Standard Finish | Price of Optional Package 1 | |
| 2 | Studio | Level 1 | 37.10 | 5.00 | 42.10 | 7.85 | 1.60 | 51.55 | | 45 000 € | | |
| 3 | 2 Beds | Level 1 | 89.10 | 6.20 | 95.30 | 15.95 | 2.70 | 113.95 | | 85 462 € | 10 000 € | |
| 7 | Studio | Level 2 | 37.10 | 5.00 | 42.10 | 7.76 | - | 49.86 | | 47 500 € | | |
| 11 | Studio | Level 3 | 37.10 | 5.00 | 42.10 | 7.76 | - | 49.86 | | 54 900€ | | |
| 13 | 1 or 2 Beds | Level 3 | 60.00 | 22.25 | 82.25 | 16.18 | 1.60 | 100.03 | | 75 000 € | 10 000 € | |
| 14 | 1 or 2 Beds | Level 4 | 60.70 | 9.00 | 69.70 | 13.00 | 2.70 | 85.40 | | 68 320 € | 10 000 € | |
| 15 | 2 Beds | Level 4 | 89.10 | 6.20 | 95.30 | 18.14 | 1.60 | 115.04 | YES | 126 000 € | | |
| 16 | 1 or 2 Beds | Level 4 | 60.70 | 9.00 | 69.70 | 13.73 | 1.60 | 85.03 | | 68 024 € | 10 000 € | |
| 17 | 1 or 2 Beds | Level 5 | 60.70 | 9.00 | 69.70 | 13.03 | 3.20 | 85.93 | YES | 85 000 € | | |
| 18 | 2 Beds | Level 5 | 89.10 | 6.20 | 95.30 | 18.17 | 2.20 | 115.67 | | 106 000 € | | |
| 19 | 1 or 2 Beds | Level 5 | 60.70 | 9.00 | 69.70 | 13.76 | 2.30 | 85.76 | | 68 608 € | 10 000 € | |
| 20 | 1 or 2 Beds | Level 6 | 60.70 | 9.00 | 69.70 | 12.94 | 1.60 | 84.24 | YES | 85 000 € | | |
| 22 | 1 Bed | Level 6 | 44.90 | 4.00 | 48.90 | 9.66 | 1.60 | 60.16 | | 51 128 € | 8 500 € | |
| 26 | 2 Beds | Level 8 | 119.62 | 28.45 | 106.35 | 19.23 | 2.70 | 170.00 | | 165 000 € | | |
Contacts:

BROKER СВЕТЛАНА КАЗАНДЖИЕВА
Phone +35952611010
Phone +35952602118
Mobile +359888628355
e-mail: skostova@accentinvest.com

ACCENT INVEST
Maria Luiza Blvd.39, 9000 Varna
Phone: +359 52 61 10 10
Fax: +359 52 60 21 18
e-mail: office@accentinvest.com