Апартаменти Варна - продава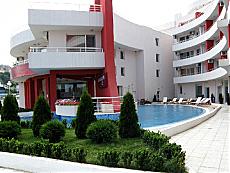 Описание: We are glad to present you this new, first class apartment complex, with stunning architecture. It consists of 3 sections, each of them with a separate entrance and lift. The design of the building is modern and unique, with elegant oval shapes, the construction is monolith and most effective heat and hydro-insulation will be provided. There will be 90 apartments arranged over 5 floors. The apartments are decorated in bright colours. Each apartment... Описание: We present at your attention a unique property with 3 bedrooms and stunning sea view, located in a gated complex on the first line to the sea coast. The Apartment is located on the 4th floor with total living area of ​​173.67 sq.m. (148.37 square meters without common parts) and the following distribution: corridor, living room with kitchenette with panoramic terrace, bathroom with toilet, 2 toilets, closet, three bedrooms and...
Описание: Accent Invest offers for sale a newly built two-bedroom apartment with an area of 104 sq m and 80 sq m terrace in a luxury building near the Medical University of Varna. The apartment is located on the 5th floor of 6 ,elevator available. Layout: entrance hall, bathroom, large living room with kitchenette, bedroom with niche closet, second bedroom, 80 sq m terrace.