Apartments in Vuzragdane - Varna, Bulgaria
Описание: Accent invest offers to your attention one-bedroom apartment for rent in the area of Vyzrazhdane 3. The property is with 52 square metres area and is located on the 1st floor of a new building. Consists of corridor, living room with ktichen area, bedroom, bathroom with toilet and terrace. Parking place included in the price.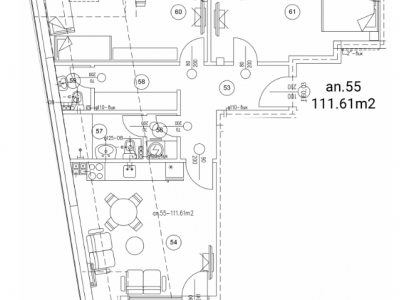 Описание: Accent Invest offers you a three-room apartment with a wonderful view of the city and the lake. The property has an area of 124.35 square meters and is located on the 8th floor of a newly constructed building in Vazrazhdane with Act 14 issued. Close to a school, kindergarten, grocery stores, pharmacies, Park "Vazrazhdane" and others. Layout: entrance hall (corridor) - 7.37 sq.m., living room with kitchen area 21.10 sq.m....
Описание: Ancent Invest presents to your attention an opportunity to become the owner of a new home in a small boutique building in Vazrazhdane 3 district. The building is located in the lower part of the quiet and peaceful area of ​​Pchelina. A total of 11 apartments are located on five residential floors, of which four are two-room and seven are three-room. All apartments offer a panoramic view of Lake Varna and the city. In the fenced and landscaped...
Описание: Accent Invest offers one-bedroom apartment for sale in vyzrazhdane 1. The property is with 74 square meters area (59,55 sq.m. living area) and is located on the 5th floor in new building. The apartment consists of living room with kitchenette, bathroom with toilet, bedroom, terrace. The property is fully furnished and equipped, there is a basement to the property. ID: 15099
Описание: Accent Invest offers to your attention a southern two-bedroom apartment with parking included in the price and turnkey completion in a new building in the residential area. Revival 4. The apartment has an area of ​​102 square meters. as the built-up area (without common parts) is 91.80 sq.m. and has the following layout: entrance hall, spacious south living room with kitchen area, two sunny bedrooms, closet / laundry, two bathrooms,...