Houses in Bourgas Region, Bulgaria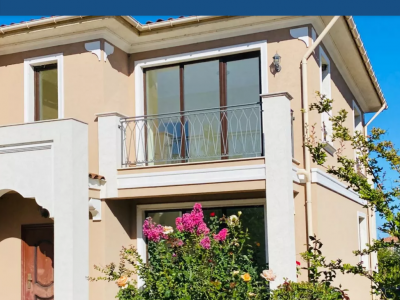 Описание: Accent Invest offers to your attention a gated residential complex of luxury houses, located near Burgas and Pomorie. The complex offers to its residents a high standard of living, quality performance, comfort and relaxation. The area in which the complex is built, offers easy and convenient access by an asphalt road, electricity, water and all necessary facilities and communications. The project is being built according to the newest...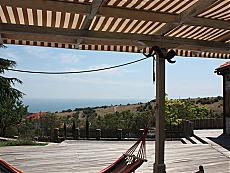 Описание: Accent Invest offers to your attention house for sale in a Mediterranean style, located in the picturesque village near the beach. The house has a total number of 6 bedrooms, 4 bathrooms with toilets, spacious living room with kitchen and dining area, laundry room. Barbecue area. Two garages and a workshop. Total living area of ​​the house - 200 sq.m. Area of ​​the yard - 1000 sq.m. The area of ​​the garages and the workshop...
Описание: Accent Invest offers to your attention furnished two-storey house in a closed complex near the sea. The property has a total living area of 138.5 sq.m. and the following lay out: 1st floor - living room with kitchen and dining area, toilet; 2nd floor - two bedrooms, bathroom with toilet, closet, terrace; The villa is offered for sale furnished. Maintenance fee - 1100 BGN per year. The complex is located in one of the most...
Описание: Accent Invest offers to your attention a newly built house in a small complex of 6 houses in the village of Gorica. The complex has parking. It consists of a single storey house and five 2-storey houses, each with its own garden of 340 m2. The houses are available in a stage of completion - turnkey. A house with living area 140 m2 Distribution: First floor - spacious living room, kitchen and dining room for a fireplace, bathroom with...
Описание: Accent Invest offers to your attention 4 villas in a gated complex on a stage of completion - rough construction. The villas consist of 159 squire meter living space in total, on two floors. Prisetsi is a beautiful unspoilt village lying approximately 5 km from the outstanding beaches of "Obzor Beach Resort". The village boasts beautiful mountain and sea views and clean air. It offers many local attractions like hunting, fishing,...
Описание: Accent Invest offers to your attention newly built house just 5km. from Sunny Beach, a combination of peace and tranquility of the Bulgarian village and the nearby resort entertainment. Living area - 150 sq.m. and adjacent yard - 400 sq.m. Distribution: 1st floor: spacious entrance hall with staircase, living room, kitchen, bathroom. 2nd floor: two large bedrooms with walk-in closet/pantry, bathroom and separate toilet. Each...
Описание: Accent Invest offers to your attention a holiday complex of 41 unique spacious and luxurious villas situated on a hill behind Sunny Beach complex – perfect for families with children. Each villa has its own garden and balcony, ideal for barbecues. On the first floor there is a balcony with two entries – one from each bedroom. The complex is quiet and calm during all the clamour of Sunny Beach resort, so you can enjoy the best of two...
Описание: Lozenec villageis located 80 km south of Bourgas and is one of the fastest developing and modernizing resort villages at our South Black Sea coast. The house is offered for sale fully furnished. The holidayvillage is located on 3km south from the settlement.The sea-level of the village is much higher than that of Lozenec and from there vast view to the sea is opened that cannot be hampered by the high buildings in the settlement. Nearby,...
Описание: Accent Invest offers to your attention a lovely renovated house for sale located in a small village in Bourgas region. The village of Zavet is located at the foot of Stara Planina in a clean area - 72 km. from the second largest city on the Bulgarian Black Sea coast. The house lies on 100m from Kamchia river, 100m from the railway station, 200m from pine forest, 70 km from the sea, near a dam. The house is fully renovated and consists of: 1st...