Houses in Varna - Near Varna, Bulgaria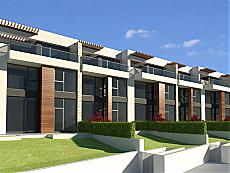 Описание: House complex with swimming pool located in the area of Trakata, near Varna. The complex offers all necessary amentities, quiet, pieceful area. The complex consists of 6 houses situated on a plot with 2615 square meters. Infrastructure: outside swimming pool steambath jacuzzi playground park area parking sports area security Each house has area of 325 square meters (area with...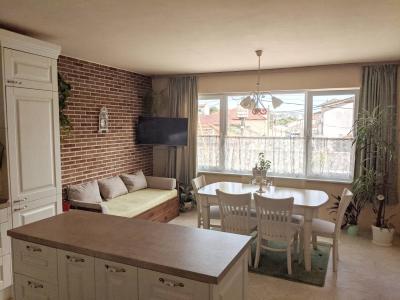 Описание: Accent Invest offers to your attention a newly built house (semi-detached) located in Breeze area. The house consists of three floors and a double garage located on the ground level. The distribution of the floors is as follows: 1st floor: Spacious living room with kitchen, bathroom, laundry room, entrance hall; Second floor: three bedrooms, one with its own bathroom, a second bathroom on the floor, terrace; 3rd floor bedroom with separate dressing...
Описание: The complex is built on a corner property in St. Nikola, Trakata. Located facing two streets. The property is accessible from the northwest and northeast, from where two parking spaces are provided for each house / building. House 2 - The residential building is located in the middle of the property with northwest and southeast exposure. It is solved on two above-ground floors. The entrance is from the northwest and provides direct access...
Описание: Accent Invest offers to your attention a four-storey house in Trakata area. The property is located on a plot of 644sq.m. and has an area of ​​486 square meters. The house was completed in 2020. and has been put into operation / act 16 /. Distribution: It has two separate entrances, which makes it suitable for two families and / or business. It consists of four rooms on the first and second floor, with private bathrooms,...
Описание: Accent Invest offers to your attention a newly built house with a built up area 99 square meters and total living area 407sq.m. divided into semi-underground, first, second and attic floor. To the main house is built additional building / Garage / 60 sq.m. Plot area - 455 square meters. The lay out of the property is as follows: 1. Semi-underground floor - two bedrooms, storage room, laundry room, bathroom...
Описание: Accent Invest offers at your attention a two-storey house in the central part of Vinitsa. The house is part of a small, neat complex of 4 single-family houses with a common yard of 680 sq.m., barbecue area, landscaping. The property has 2 open air parking spaces. Lay out: Living area: 140 sq.m. - first floor: corridor, toilet, closet, living room, kitchen, dining room, staircase to the second floor. - the second floor: corridor,...