Houses in Balchik - Dobrich Region, Bulgaria
Pages:

|
1
|
2
|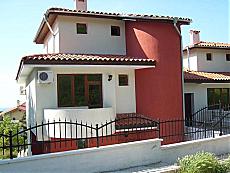 Описание: Accent Invest offers at your attention a newly built house located in a beautiful area near Balchik. Details: three floors; built-up area of ​​90sq.m.,total living area 251sq.m. The house has panoramic south exposure. Garage. Adjacent yard ~ 480 sq.m. Specifications of Construction: solid reinforced concrete structure; roof - mineral wool insulation, wood siding and ceramic tiles; exterior plasters, thermal insulation polisterol...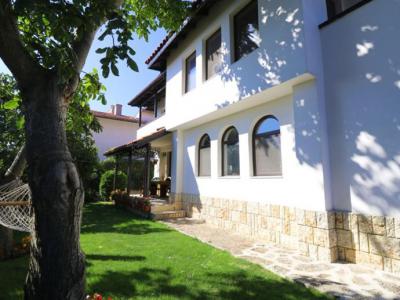 Описание: Fully finished, elegant two-story villa with living area of ​​190 sq.m. with private garden of 540 sq.m., situated in the picturesque sea town of Balchik. The villa is located on 500m from the beach. The construction is done with quality materials and latest requirements for insulation, waterand heating. Interior - terracotta tiles, furniture in...
Описание: Accent Invest offers to your attention newly built house with breathtaking sea view in a picturesque area between Balchik and Albena - a wonderful combination of unique sea panorama and mountain view. The yard has total area of ​​400 sq.m. and the house has a total built up area of ​​450sq.m., on three levels, first and second floor living area is 300sq.m. and includes 3 suites and two double rooms with private bathrooms and toilets, cellar...
Описание: We offer you a property with great location in an area near Albena Fish Fish. The villa is located in the suburbs near resort Albena, near buss stop Goldfish. The plot is 460 sq. m. flat, located near the main road to Balchik, with asphalt acces. The house is about 55 square meters 2 floors and consists of 3 bedrooms, kitchen and bathroom with internal staircase to the upper floor. There is a terrace about 20 sq. m. and a separate space with...
Описание: Accent Invest offers to your attention a luxury, fully furnished three-bedroom villa, situated in one of the most gorgeous and luxurious complexes on the black Sea Coast , near Balchik and Kavarna. This is a beautiful three-bedroom two story detached villa located in the Green District of the Resort. The villa has total living area of 157,68 sq.m. and contains three large bedrooms (one downstairs and two upstairs), lounge with open kitchen,...
Описание: Accent Invest offers for sale a newly built, three-storey villa, situated about 800 meters from the Palace in Balchik. The property is built in 2007 and has a total living area of 180 sq.m. Description: Kitchen with dinning room, living room with fireplace, internal staircase, 4 bedrooms, 3 bathrooms and panoramic terrace, with beautiful view over the sea and the surroundings. Each floor of the house, has a wonderful panoramic terrace. Second...
Pages:

|
1
|
2
|