Къщи Варна - продава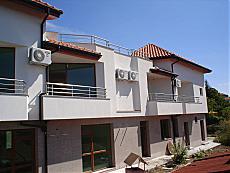 Описание: Accent Invest offers to your attention newly built house with breathtaking sea view in a picturesque area between Balchik and Albena - a wonderful combination of unique sea panorama and mountain view. The yard has total area of ​​400 sq.m. and the house has a total built up area of ​​450sq.m., on three levels, first and second floor living area is 300sq.m. and includes 3 suites and two double rooms with private bathrooms and toilets, cellar...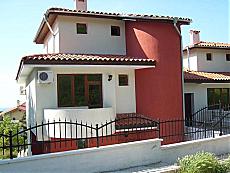 Описание: Accent Invest offers at your attention a newly built house located in a beautiful area near Balchik. Details: three floors; built-up area of ​​90sq.m.,total living area 251sq.m. The house has panoramic south exposure. Garage. Adjacent yard ~ 480 sq.m. Specifications of Construction: solid reinforced concrete structure; roof - mineral wool insulation, wood siding and ceramic tiles; exterior plasters, thermal insulation polisterol...
Описание: House complex with swimming pool located in the area of Trakata, near Varna. The complex offers all necessary amentities, quiet, pieceful area. The complex consists of 6 houses situated on a plot with 2615 square meters. Infrastructure: outside swimming pool steambath jacuzzi playground park area parking sports area security Each house has area of 325 square meters (area with...
Описание: Accent Invest offers to your attention a gated residential complex of luxury houses, located near Burgas and Pomorie. The complex offers to its residents a high standard of living, quality performance, comfort and relaxation. The area in which the complex is built, offers easy and convenient access by an asphalt road, electricity, water and all necessary facilities and communications. The project is being built according to the newest...
Описание: Accent Invest offers to your attention for sale a two-storey solid house. The house has its own plot of 600 sq.m. The property is located in the village of Nikolaevka, Suvorovo municipality, Varna district. The house has the following distribution: on the first floor there are an entrance hall, a bathroom with a toilet, four rooms and a workshop. There is also a shop with a bathroom. The house has a plot of very well maintained and in excellent...
Описание: Accent Invest offers to your attention a traditional Bulgarian house in the village of Dobrotich. The village is located 58 km from Varna and 12 km from Valchi Dol. The house was built in the eighties, strong, without leaks, perfect roof, furnished and habitable. On an area of ​​180 square meters on two floors are distributed: 1st floor - living room with kitchen, bedroom and large basement; 2nd floor - two bedrooms, living...
Описание: Accent Invest offers to your attention a house for sale, with three bedrooms, in the area of Srebarna village. The house is with 144 square meters area and consists of three bedrooms, living room with kitchenette, corridor, storage room, toilet, bathroom, basement (60 square meters area). Local heating (wood boiler), 720 square meters yard. The property is fully furnished and equipped. Parking places in the property.
Описание: Accent Invest offers to your attention a newly built house (semi-detached) located in Breeze area. The house consists of three floors and a double garage located on the ground level. The distribution of the floors is as follows: 1st floor: Spacious living room with kitchen, bathroom, laundry room, entrance hall; Second floor: three bedrooms, one with its own bathroom, a second bathroom on the floor, terrace; 3rd floor bedroom with separate dressing...