Къщи Варна - продава
Описание: Accent Invest offers to Your attention a three-storey house in Briz- one of the most preferrable areas in Varna city . The house has its own pool and garage for two cars. The distribution of the property is as follows: First floor: spacious dining room with kitchen, living room, bathroom, closet; Second floor: two bedrooms with bathrooms, a terrace with beautiful sea panorama view ; Third floor: bedroom, panoramic...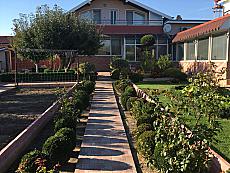 Описание: Accent Invest offers for sale a house for year-round living in the TV Tower, 3km away from the city of Varna. On the ground floor there are a living room of 50sq.m. With large kitchen with built-in oven, ceramic hobs and gas cooker, dishwasher, grill. It enters another living room with a kitchen, a separate bathroom and separate toilet, a large corridor with wardrobes and a place for a steam installation, a water heater and a coil. From it it enters...
Описание: We offer for sale a house near the market in the very center of Asparuhovo. The house is on one floor, brick with PVC windows and insulation, built-up area 56 sq.m. plus 18 sq.m. summer garden and 100 sq.m. yard. Distribution: corridor, kitchen 12.sq.m. and two bedrooms of 20 sq.m., bathroom + toilet and closet. The property has a solid fence, electricity, water and sewer. Possibility to build 4 floors according to the indicators of the area.
DOBREVA CHESHMA COUNTRYSIDE

Описание: Accent Invest offers to your attention a charming small house a few kilometers from Varna in the villa zone Dobreva fountain. The house is a newly built light construction with an area of 50 sq.m on one floor with a large veranda from which a sea view opens. The adjacent yard is 650 sq.m with open lots for electricity and water in the plot. For reviews and more information feel free to contact us and quote code: 18919
Описание: Accent Invest offers to your attention a house in Vinitsa with a total built-up area of 167 sq.m., a yard - 715 sq.m and a panorama of the sea. The house needs to be repaired. Total Living area: 167 sq.m. It consists of two mirror floors of 64sq.m. Each floor consists of two rooms - 16sq each and one 9 sq.m, corridor - 12sq.m with kitchenette and bathroom with toilet. The roof space two rooms of 16 sq.m. and a terrace of 20 sq.m....
Описание: Accent Invest offers to your attention a house in Akchelar. Location: The property is located in a quiet and peaceful location, close to bus stop, shop and 2 km to Kaufland Breeze. Area: 220 sq.m., Yard: 600 sq.m. , floors: 2 Disposition: On two floors and basement there is a living room, kitchen with dining area, four bedrooms, two bathrooms, fitness and a terrace. The house has a barbecue in the yard. Excellent and quality construction....
Описание: Accent Invest offers to your attention a small complex of two one-storey, detached houses, built in 2009. Located in the village Dyulevo about 28 km. From Burgas, 5 km. of Sredets, 38 km. from airport and 10 km. from the largest lake in the region, Mandrensko, in Strandja mountain. The plot has a frontage on two streets – situated on a corner with total area of 1550 square meters. On it are built two houses, each with its own garden / plot...