Houses for sale in Bulgaria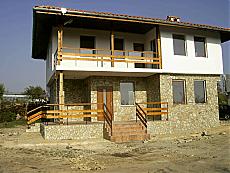 Описание: Accent Invest offers to your attention a lovely complex of three luxury houses, located in a small and well developed village near Varna. The first house is fully finished. It has total living area of 155 sq.m. and consists of: 1st floor: kitchen, living room with fireplace, dinning room, bathroom with toilet, closet and verandah. 2nd floor: 3 bedrooms, a bathroom with a tub and a verandah. The property has fully fitted...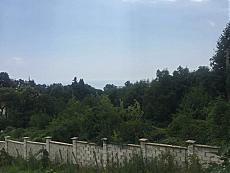 MANASTIRSKI RID COUNTRYSIDE

Описание: Accent Invest offers to your attention a renovated one-storey house with a separate guest room in a picturesque village near the town of Dolni Chiflik. The house has a built-up area of ​​80 m2 and consists of an entrance hall, a bedroom with a separate bathroom, a living room with a kitchen niche and a toilet in the corridor. The guest room is 20 m2. The yard is 750 m2, beautifully arranged and landscaped. There...
Описание: Accent Invest offers to your attention two new houses, built on the beach in Sozopol. The houses offer fantastic sea views, tranquility and silence. They are located about 1 km from the city. They are built with quality natural materials, have functional distributions and are finished turnkey. The houses are duplex type and each one has its own swimming pool, barbecue, garden, parking for 2 cars. They are built in a yard with an area of ​​about...
Описание: Accent Invest offers for sale a new three-storey house with a beautiful sea view in the area of ​​Manastirski Rid. Built-up area of ​​the house 220sq.m., Yard 700sq.m. The house is fully finished and is fully furnished. The house has a heating installation with radiators in each room. The property has all the right documents! Consists of: - I floor: corridor, spacious living room with kitchenette, bathroom with toilet 10 sq.m, closet...
Описание: We offer you a modern house on one floor with flat roof concrete, designer project, 3 bedrooms, two bathrooms with toilet, large living room with kitchen, built fireplace, large southern showcases, thermal insulation, air conditioning, local pellet heating, Large verandah, quality materials, on asphalt, 5 km from beaches and 3 golf courses, video surveillance. 650 square meters of landscaped yard, irrigation system, 24-hour security nearby; Sokolovo...
Описание: Accent Invest offers at your attention a gated residential complex with 10 houses near the sea in Sinemorets. Price for service and maintenance (optional) by resort management company is 12 €/m2 peryear.The complexis a closed holiday resort of 10 houses. They form a harmonic arrangement with their traditional Bulgarian exterior style. Each house has its own parcel of land(400 sq.m.), a swimming pool (optional), closed and open...