Houses for sale in Bulgaria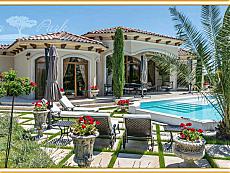 SUNNY BEACH HOLIDAY RESORT

Описание: Acent invest offers to your attention new exclusive project - complex of one-family houses near Sunny beach. Seeking a maximum range of amenities, opportunities for relaxation and entertainment. Modern resort will occupy an area of ​​400,000 m² and will consist of 250 houses. The villas are designed in typical Mediterranean style, only 2 km. from the sand dunes of the biggest Bulgarian resort - Sunny Beach. The complex will...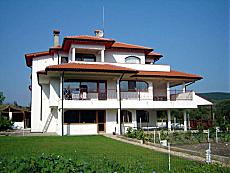 Описание: Accent Invest offers to your attention a very large individualy designed spacious house, which has excellent views of the country sidefrom every room in the house, it is beautifully finished to modern European standards, the building is approximatly 730 m2, of which 506 m2 is living space plus, it is approx. 900 meters to the beach, and a 10 minute walk to the centre of Kranevo. This house benefits from mains water, canalization,...
Описание: Accent Invest offers you a three-storey house situated in the lower part of the "Breeze" quarter. The house consists of three floors and one underground level. Floors are distributed as follows: Ground floor - double garage, workshop, cellar, boiler room and laundry room with a total area of ​​178 square meters .; First floor - entrance hall, living room, kitchen, dining room, bedroom, office, bathroom, toilet and pantry with a total...
Описание: Accent Invest offers to your attention a house for sale in Dolni Chiflik, 40 km. away from Varna, 20 km. away from Kamchia and Shkorpilovtsi beaches. The house is with total area of 75 square meters and consists of 4 rooms and toilet. Basement with 14 square meters area and one additional building with 16 square meters area. The house was built in 1985 and needs renovation. Yard with 830 square meters area. ID: 13232
Описание: Accent Invest offers to your attention a spacious house situated in Trakata, Varna. The house is on the first line with sea views and is situated on a plot of 1200 sq.m. Description: Three-storey house with total area of 715 square meters, consisting of: Basement - boiler room, toilet, storage laundry, sauna, gym, two garages, room for security. Main floor includes three bedrooms, pantry, laundry, toilet, the lobby, stabishte and...
Описание: The newest project of Victoria Residences Complexes. It is designed in the typical Mediterranean style and it will be located among wonderful vine massifs typical of the region of Pomorie, famous for its wine-producing. The location is conformed with the vast sea panorama, revealing to the east of the Complex. The complex is a gated complex, which includes 33 luxurious houses with its own yard and parking...
Описание: Accent Invest offers to your attention a luxury house for sale in a gated complex near Sunny beach, Kosharitsa village. The complex is sistuated 3 km away from the Black Sea. The house is appropriate for two families and has an area of 188 square meters. First floor consists of a living room/kitchen, two bedrooms, two bathrooms, laundry room, WC, entrance hall and terrace. Area of 102 square meters. The second floor consists of a living...
Описание: The house is located on a quiet street , 100 meters from the center of the town , near the school. The distance to the beach is about 2.5 km. Distribution : Basement with an area of 37 square meters - cellar First floor area with 163 m2 - 5 rooms , kitchen, 2 corridors and bathroom. Second floor area 186 m2 - 4 rooms , kitchen , 2 bathrooms, 1 toilet, large terrace. Attic...
Описание: The complex is located on 15 minutes walk from the beach. In the pedestrian availability from the property (5 min), there is a market, restaurants, supermarket etc. The house is spread on two floors with total area of ​​109 square meters. On the first floor: living room with kitchenette, bathroom with shower. Flooring - Italian tiles. Staircase with wrought iron railings leads to the second floor. On the second...
Описание: Accent Invest offers to your attention a spacious 4-bedroom house in Saint Vlas resort, villa area of Intsaraki. Lay out: Living room, 4 bedrooms, 3 bathrooms, parking, pool, summer BBQ-fully furnished. Total living Area - 250 m2 Area of the adjacent yard - 700 m2 The property has a beautiful sea view and panorama over the surroundings. It is suitable for both holiday and year-round occupancy.