Houses for sale in Bulgaria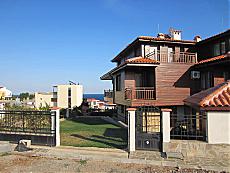 Описание: The complex is situated in the popular area of Sozopol - Budzhaka , and is located just 150 meters from the sea. The complex consists of four terraced houses surrounded by other new and modern buildings with charming appearance. The complex: The houses are built in the ensemble on a common ground and with common infrastructure, including road, parking lots, alleys, swimming pool and garden. Each of them offers spectacular sea view....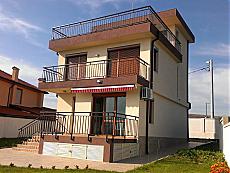 Описание: Accent Invest offers to your attention a three-storey house in the village of Luka, near Pomorie. The house is spread over three floors - 180 sq.m. living area. Lay out: 1st floor - Living room / kitchen, bathroom, cabinet, storage room, veranda; 2nd floor - 2 bedrooms, bathroom and toilet; 3rd floor - bedroom, large balcony; The house is new and fully furnished. Adjacent yard - 420 sq.m.
Описание: Accent Invest offers to your attention two storey house situated near the beaches of Byala. The house has an area of ​​198 square meters divided into two levels . On the first floor there is a restaurant with a kitchen. The second floor has a large living room with kitchen ( 50 m2 ) , three bedrooms, two bathrooms , WC (separate ) , laundry room, large walk-in closet . The house is completely finished : flooring - laminate and tiles , painted...
Описание: Accent Invest offers to your attention a complex situated in a beautiful area called "St. Athanasius" in Byala, Varna, where are found the remains of an ancient settlement more than 2,000 years. The distance to the nearest secluded beach and fishing harbor is 300m., like the complex offers all-day shuttle bus to the beach and the town of Byala. The complex is built in compliance with the - highest construction standards, design, consistent...
Описание: Accent Invest offers for sale furnished house in sthe village of Bliznatsi, about 3.5 km. from the beach. Total living area - 480 square meters.The house consists of residential part and restaurant. The house consists of living room, kitchen, 5 bedrooms, 2 bathrooms, 2 closets, terrace and garage. The restaurant has total area of about 200 square meters and 60 seats. It consists of a hall, kitchen, 2 bathrooms. Local heating, internet, TV. The...
Описание: Accent Invest offers to your attention house in the picturesque village of Rogachevo, about 4 km from the Black Sea. The village is quite, a popular place for recreation, fresh air and beautiful scenery, with built many fine houses by both Bulgarians and foreigners. Located on 4 km from the resort of Albena and Kranevo, about 8 km. of the largest resort of Golden Sands. Varna Airport is about 25 km. away. Distribution: Second...
Описание: The Deluxe Individual Villas and townhouses are located along the South Alley and are distributed into three lines - cliff top sea view, golf and sea view and golf and lake view. These villas cater for the ultimate retreat and unique relaxation combining space, privacy and coziness.The villas offer living area of 70 up to 280 sq.m and can accommodate up to eight persons. All Deluxe Individual Villas offer outdoor swimming pools being the...
Описание: Accent Invest offers to your attention house for sale in the twon of Balchik. The house is built in a traditional Bulgarian style. Total area 367 m2. With a perfect view over the sea and the forest. First floor - two large living rooms with dining area and fully equipped kitchen, large laundry room with dryer. Second floor - two bedrooms and three double rooms with balconies. On the last level has a terrace and barbecue. All rooms are furnished...
Описание: The house has three floors with total living area of ​​180 sq. m, a separate garage, the garden is 490 square meters. It was built in 1993. Construction is solid, concrete columns, slabs and brickwork. The first floor consists of a room with living area, separate kitchen, bathroom (bath / toilet) and external storage. The flooring on the first floor are Spanish tiles, the walls are painted, there is a fireplace that heats the first...
Описание: Accent Invest offers to your attention a newly built two-storey house, located near Varna, in a green and quiet area with easy and convenient access. The house, its walls, floors and furniture are met in a stylish white color. The property is spread on 2 floors. The ground floor consists of a very spacious living room with kitchenette and dining area. The living room is separated on three sides by large windows extend from the...